These clouds were in my view from the aircraft on a really stormy day in New York City. After a 4 hour delay, and nearly missing the flight due to a 3rd gate change, I settled in my seat and looked out the window to see the clouds. It brings a smile as I write this - the clouds were magical. ​ ​ There was a beautiful family of 4 in the next two rows behind me. They kept playing musical chairs - even while on the active runway, the 4 year old had to go to the bathroom. Mom
What's your process? Where's your nourishment coming from? Is your head in the sand? These beautiful seagulls illustrate how natural it is for us to get what we need to be alive, to thrive, and to experience a full and satisfying life. Click HERE if you want to explore these questions. Michele is looking forward to speaking with you!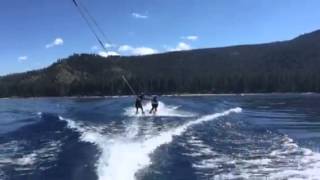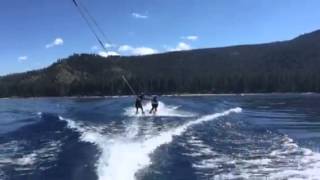 What's Your Waterski Moment?
A few days ago I had a chance to try waterskiing for the first time. How exhilarating was that? I'll tell you - it was akin to riding "The Cyclone" Roller Coaster at Coney Island back in the 70's. It was awesome to try something new and see how it turned out. I took in plenty of water taken over several attempts, but it sure felt good to have the wind and water in my face. I'm nobody's top athlete, but I felt pretty bold and courageous out there on the water at Lake Tahoe